Yumachi Middle School
is located in Shimane Prefecture.

Kyouka Inamura, Kanna Ishitobi, Himari Kanazawa, Rena Mototsune, and Shino Shiratsuki started studying here after graduating from Yumachi Elementary. Hayari Mizuhara also went here since the middle school from her district didn't have a mahjong club.
Alumni of Yumachi Middle School include Kousuke Shiratsuki and probably Nana Shiratsuki.
History
The year before Shino entered the school, the team of Yumachi Middle School was defeated during the prefectural qualification tournament of the All Japan Middle School Mahjong Tournament. The strong third year players graduated.
Club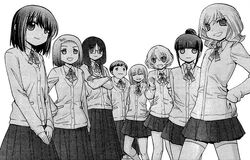 The remaining club members are two second year students, the club president Shizuku Nozu and Rio Takuwa, as well as two third year students, Mirin Katsube and Ayuko Yamamoto. The previous year, all four were defeated in the first round of the city individual tournament. Kyouka Inamura, Kanna Ishitobi, Hayari Mizuhara, Rena Mototsune, and Shino Shiratsuki joined the club. The club advisers are Chisa Sakane and the elderly Nakamura.
The mahjong club room has two automatic tables.
Roster
Girls' Team Tournament:
Kanna Ishitobi (Vanguard)
Hayari Mizuhara (Sergeant)
Shino Shiratsuki (Lieutenant)
Shizuku Nozu (Vice-Captain)
Kyouka Inamura (Captain)
With Rio Takuwa, Rena Mototsune, Mirin Katsube, and Ayuko Yamamoto as substitutes.
All members can compete in the individual city tournament.
Ad blocker interference detected!
Wikia is a free-to-use site that makes money from advertising. We have a modified experience for viewers using ad blockers

Wikia is not accessible if you've made further modifications. Remove the custom ad blocker rule(s) and the page will load as expected.