Events of the All Japan High School Mahjong Tournament are held at various public locations. In prefectures with lower student population, events are often held at public facilities. Tournaments in regions with a history of strong rivalry and high attention from the media are often held in rented private facilities which have more amenities.
Tokyo International Forum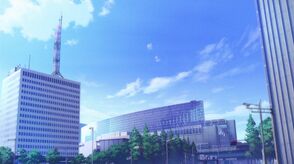 Tokyo International Forum (東京国際フォーラム) is the venue of the Inter High School Mahjong Championships. It is a multipurpose convention and exhibition center standing between Tokyo Station and Yuurakuchou Station. Its address is in Marunouchi, Chiyoda, on the site formerly occupied by Tokyo City Hall (before it moved to the Tokyo Metropolitan Government Building in 1991).
The building is the winning design in the 1989 International Design Competition, the first international architectural competition in Japan, held by the Union Internationale des Architectes (UIA). Rafael Viñoly, of Uruguayan origin and raised in Argentina, and his firm submitted the design, which features swooping curves of steel truss and glass, with an exterior shaped like an elongated boat.
Prefecture qualification venues
Ad blocker interference detected!
Wikia is a free-to-use site that makes money from advertising. We have a modified experience for viewers using ad blockers

Wikia is not accessible if you've made further modifications. Remove the custom ad blocker rule(s) and the page will load as expected.