Tsuruga Academy



Club Tier

1/5

Popularity

1/5

Cohesion

4/5

Personality

4/5

Strengths

4/5
Tsuruga Academy (鶴賀学園高等部), located in Nagano Prefecture, is a girls private secondary school, enrolling both middle and high school students. It is a regional rival of Kiyosumi High School in the Saki manga and its anime adaptation.
History
Although the mahjong club is well funded, Tsuruga is considered a "no-name" school. The club makes use of online mahjong on portable laptops to train current members and recruit prospective members.
Club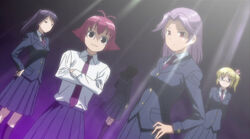 Satomi Kanbara is the president of Tsuruga's mahjong club, although Yumi Kajiki takes a more direct leadership role. This often leads to others mistaking Yumi as the club's president. Offically the club has eight members, however three are ghost members.
Roster
Girls' team and individual tournaments
Tournaments
Nagano Prefecture qualification
Ad blocker interference detected!
Wikia is a free-to-use site that makes money from advertising. We have a modified experience for viewers using ad blockers

Wikia is not accessible if you've made further modifications. Remove the custom ad blocker rule(s) and the page will load as expected.