Takatoobara Middle School
is located in Nagano Prefecture.
History
Takatoobara gained national fame when then-third-year Nodoka Haramura won the individual Inter Middle School Mahjong Championships. However, it failed to qualify for the team national tournament.
Club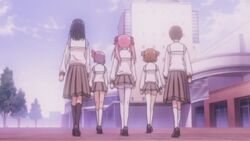 Alumnae of Takatoobara include Kirame Hanada, Nodoka Haramura, and Yuuki Kataoka, who was the captain of the club during her last year at Takatoobara.
Roster