Shiraitodai High School
Talk

14
376pages on
this wiki
Shiraitodai High School, located in the West Tokyo area, is the primary rival of Kiyosumi High School in the Saki manga and its anime adaptation. It is also a secondary rival of Achiga Girls' Academy in the spin-off manga Saki Achiga-hen episode of side-A and its anime adaptation.
History
Shiraitodai is known as an exception to West Tokyo's reputation as a region which produces second-rate players, primarily due to its sudden rise to fame after then-first-year-student Teru Miyanaga led the team to become the national champion at the 69th Inter High School Mahjong Championships. Shiraitodai also defended its title at the 70th Inter High. If it is once again successful in its third year, Teru will become the first person to become a national champion all three years in high school.
Club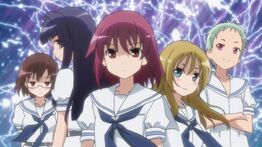 Shiraitodai has multiple teams which compete within their school. The group that wins get to represent the school in the nationals. Each group has its own theme. Teru and Sumire's team likes to focus on offense.
Roster
Girls' team tournament
Tournaments
69th Inter High
Main article: 69th Inter High School Mahjong Championships
70th Inter High
Main article: 70th Inter High School Mahjong Championships
West Tokyo qualification
71st Inter High
Main article: 71st Inter High School Mahjong Championships