Rinkai Girls' High School
Talk

0
Rinkai Girls' High School, located in East Tokyo, is a national tournament rival of Kiyosumi High School in the Saki manga and its anime adaptation.
History
Rinkai has been East Tokyo's representative for the past 15 years. Its enrollment is primarily composed of overseas students studying in Japan on scholarship. As of the 71st Inter High School Mahjong Championships, the only enrolled exchange students are the ones in the competing team.
Club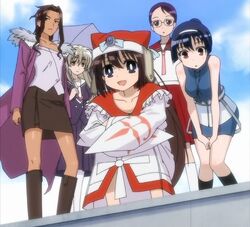 Up until the previous year, Rinkai did not have a Japanese student in its national tournament team. A change in tournament rules prompted it to include a Japanese student as its vanguard, or so the media believes. In truth, Satoha Tsujigaito was scouted as Rinkai's ace before the change in rules. The club is being coached by Alexandra Windheim.
Roster
Girls' team tournament
Tournaments
70th Inter High
Main article: 70th Inter High School Mahjong Championships
East Tokyo qualification
71st Inter High
Main article: 71st Inter High School Mahjong Championships