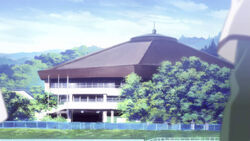 The Nara Prefecture qualification for the 71st Inter High School Mahjong Championships features 32 schools and is won by Achiga Girls' Academy.
History
Nara Prefecture is home to perennial mahjong powerhouse Bansei High School, whose mahjong club was founded approximately 40 years prior.
Tournament draw
Semi-final 1
Group 1
Aramaki High School
Kasugano High School
Group 2
Group 3
Group 4
Semi-final 2
Group 5
Group 6
Group 7
Group 8
Final
Ad blocker interference detected!
Wikia is a free-to-use site that makes money from advertising. We have a modified experience for viewers using ad blockers

Wikia is not accessible if you've made further modifications. Remove the custom ad blocker rule(s) and the page will load as expected.