Nanami Fujishiro is a former member of the Senriyama mahjong team.
Appearance
Personality
Playing Style / Abilities
Not much is known about her abilities but Yoshiko Kainou said that she weakened Teru Miyanaga before they played. This coupled with her having the highest ranking[1] in the prestigious mahjong club at Senriyama, suggest she is highly skilled.
Plot
National Championship Arc
Nanami is mentioned by Yoshiko when she tells Hayari Mizuhara that she defeated Teru once.
Trivia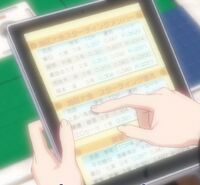 Nanami had a ranking of 2629 in her third year. This is 315 points higher than the second place individual.
References
↑ In the Achiga-hen anime, Episode 12, about 2 minutes into the episode Sera is scrolling through a list of names on a tablet
Ad blocker interference detected!
Wikia is a free-to-use site that makes money from advertising. We have a modified experience for viewers using ad blockers

Wikia is not accessible if you've made further modifications. Remove the custom ad blocker rule(s) and the page will load as expected.