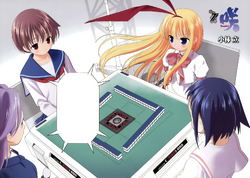 The team final of the Nagano Prefecture qualification for the 71st Inter High School Mahjong Championships decides the Nagano Prefecture representative at the Inter High.
Match
Vanguard Battle
Sergeant Battle
After Kaori completes a four closed triplets (Suu Ankou) yakuman, Mako regrets not having discarded the eight of characters tile

. If Kaori ronned it, her fourth triplet wouldn't have been considered closed and so she wouldn't have gotten a yakuman.
Lieutenant Battle
Vice Captain Battle
Captain Battle
Analysis
Kiyosumi:
Ryumonbuchi:
Tsuruga:
Kazekoshi:
Ad blocker interference detected!
Wikia is a free-to-use site that makes money from advertising. We have a modified experience for viewers using ad blockers

Wikia is not accessible if you've made further modifications. Remove the custom ad blocker rule(s) and the page will load as expected.