Mahjong online
Talk

0
411pages on
this wiki
While mahjong is traditionally played with tiles, the game can be played online. Playing any computerized version of Japanese mahjong, a player does not need to worry about game setup, tiles, scoring, and the lack of players. Aside from the lack of players problem, everything else involving the game is done automatically. Online, a player may simply worry about developing hands and effectively playing the game.
Flash game
http://www.gamedesign.jp/flash/mahjong/mahjong_e.html
You can practice these basic rules against three computer players at the following site. Everything is automatically taken care of for you except that you need to have a yaku in order to win a hand.
Shin Jan Ryu Mon
http://www.ncsoft.jp/janryumon
There is a tutorial for non-japanese-speaking players, which can be found here.
Tenhou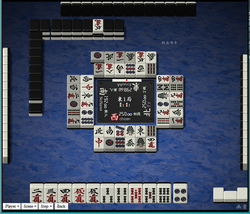 Games at Tenhou are available for free. Anyone who wishes to have their stats tracked for ranking purposes, may register for free, although some advances features are restricted to paid subscriptions. English instructions to navigating the site can be found here.
Regardless of the time of day, enough players can be found in Tenhou.
Ron2
Players at this site may sign up for a 6-month trial period, and then they may choose to continue with a subscription. Yet, declining the subscription, players are still allowed to play one game a day. With a subscription, players may have the privilege of playing against some Japanese professional players.
Maru Jan
http://http://www.maru-jan.com/
Maru Jan is a relatively new system, with its upgraded graphics. Scoring here is modified such that a 4 han and 30 fu is equated to that of a mangan.
Pairon
After an extensive Japanese heavy user signup process, you have the privilege to play mahjong here with some loli avatars.
Apps
Available for Android and Apple devices, the game Jan Ryu Mon is available. Other apps, like Nagomi, are also available, but these are limited against AI (computer) opponents.
A Saki app. is available for free in the Android market which gives the player a selection of characters from the series to use as an avatar in matches. The app also keeps track of stats such as win percentage and yaku used in winning hands.