The Live-Action Saki Project is a live-action adaptation of the mahjong manga Saki and its spinoff Saki Achiga-hen episode of side-A.
Saki adaptation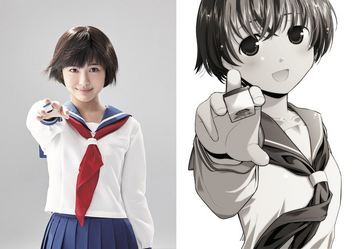 The live-action adaptation of the Saki manga consists of a live-action series and a film. The series has four 30-minutes-episodes as well as a television "special". The series premiered on MBS on December 4, 2016, on TBS on December 6, 2016, and on Amazon prime on December 7, 2016. Other stations aired the series at later dates: NBC (Nagasaki Broadcasting) December 15, IBC (Iwate Broadcasting) and TUY (TV-U Yamagata) December 20, TUF (TV-U Fukushima) January 6, 2017.
The special aired on MBS on January 8, 2017, and on TBS on January 10, 2017. The adaptation was released on DVD and Blu-ray in a regular and a special version on January 11, 2017.
The film had an early premiere on January 18 and opened in Japan on February 3, 2017. The opening Kimi ni warutsu and ending No more cry by the five actresses of the Kiyosumi mahjong club as well as the soundtrack with music composed by T$UYO$HI was released on February 1, 2017. The movie was released on DVD and Blu-ray in a regular and a special version on July 5, 2017.
Cast
Kiyosumi High School
Ryuumonbuchi High School
Kazekoshi Girls' High School
Tsuruga Academy
Adults
Production Staff
Yūichi Onuma is directing, while Hiroyuki Ishikawa is co-directing. Hayashi Mori is penning the script. T$UYO$HI (The BONEZ) is composing the music. The opening theme Kimi ni Waltz is composed by Mimi Meme Mimi and performed by the five actresses Minami Hamabe (Saki), Nana Asakawa (Nodoka), Aika Hirota (Yuuki), Seika Furuhata (Hisa), and Anna Yamada (Mako). The ending theme song is Hello Goodbye performed by the band Frederic.
Other staff members include:
Photography: Yasutaka Nagano
Lighting: Jun Kodama
Art: Shūji Yamashita
Recording: Takeshi Kobayashi
Props: Yū Yamamoto
Editing: Etsuko Kimura, Shiori Kawamura
VFX Supervisor: Junji Munakata
Costumes: Miyuki Katō
Costume Production: Bandai Apparel
Hair & Makeup: Chieko Uchijō
Sound Effects: Keisuke Shibuya
Mahjong Consultants: Kenneth Tokuda, Masao Kuroki, Hirokazu Baba, Babylon
Casting: Keiichi Anda
Production: Naomichi Imai
Line Producer: Akio Motojima
Saki Achiga-hen episode of side-A adaptation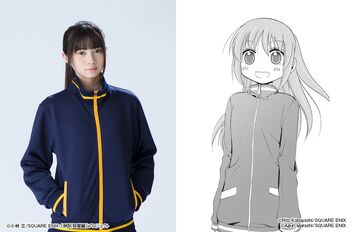 On September 15, 2017, an adaptation of the spinoff-manga Saki Achiga-hen episode of side-A was announced in issue 19/2017 of the magzine Young Gangan. The adaptation will consist of a four episodes live action series that will air in December 2017, as well as a movie that will open in japanese theatres in January 2018.
Cast
The main cast except Teru Miyanaga was announced on October 4, 2017, more actors on November 17, 2018. Nana Asakawa returns as highschool student Nodoka Haramura, but the younger Rena Suzuki will play her role as elementary school student.
Achiga Girls' Academy
Senriyama Girls' High School
Shiraitodai High School
Shindouji Girls' High School
Adults
External Links
Ad blocker interference detected!
Wikia is a free-to-use site that makes money from advertising. We have a modified experience for viewers using ad blockers

Wikia is not accessible if you've made further modifications. Remove the custom ad blocker rule(s) and the page will load as expected.