Koshigaya Girls' High School, located in Saitama Prefecture, is a national tournament rival of Achiga Girls' Academy in the spin-off manga Saki Achiga-hen episode of side-A and its anime adaptation. Koshigaya makes a small cameo watching the side B semi-finals.
History
Koshigaya had never advanced into the second round in its previous four appearances in the Inter High. They finally advanced to the second round during the 71st Inter High School Mahjong Championships. However, they did not advance past this round, losing to Achiga and Senriyama.
Club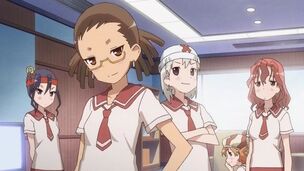 Roster
Girls' team tournament
Tournaments
71st Inter High
Main article: 71st Inter High School Mahjong Championships
Ad blocker interference detected!
Wikia is a free-to-use site that makes money from advertising. We have a modified experience for viewers using ad blockers

Wikia is not accessible if you've made further modifications. Remove the custom ad blocker rule(s) and the page will load as expected.