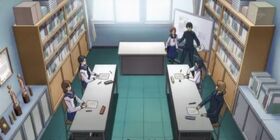 The Kiyosumi Student Congress
is a representative structure for students only, through which they can become involved in the affairs of the school, similar to a student council. The congress functions with a President, Vice-President, secretary, treasurer, and reporter (presumably) whom work together with the school for the benifit of the school and its students.
The student congress is decided by election. Hisa Takei and Ichita Naiki have been President and Vice-President for two consecutive years.
Members of the Kiyosumi Student Congress
Ad blocker interference detected!
Wikia is a free-to-use site that makes money from advertising. We have a modified experience for viewers using ad blockers

Wikia is not accessible if you've made further modifications. Remove the custom ad blocker rule(s) and the page will load as expected.