Kentani High School, located in Hyogo Prefecture, is a national tournament rival of Achiga Girls' Academy in the spin-off manga Saki Achiga-hen episode of side-A and its anime adaptation. Kentani makes a small cameo watching the side B semi-finals match.
History
Kentani is considered a contender for the national title after bringing the score of one of its opponents to zero during its first-round match of this years national tournament. However, the team was knocked out of the tournament in the second round. Kentani registered in the tournament as a Mahjong Club but in fact they are a Tea Ceremony Club whose members happen to play Mahjong. The club has existed for 12 years.
Club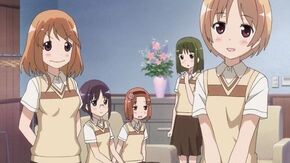 Roster
Girls' team tournament
Tournaments
71st Inter High
Main article: 71st Inter High School Mahjong Championships
Ad blocker interference detected!
Wikia is a free-to-use site that makes money from advertising. We have a modified experience for viewers using ad blockers

Wikia is not accessible if you've made further modifications. Remove the custom ad blocker rule(s) and the page will load as expected.