Best
Season 1, episode 9


Caption

Episode information
Kanji:
最強
Rōmaji:
Saikyō
Air date:
June 11, 2012
Written by:
Tatsuhiko Urahata
Directed by:
Manabu Ono
Opening theme:
Miracle Rush
Ending theme:
Futuristic Player
Episode guide
Previous
Episode 8
Next
Episode 10
The Opening "Miracle Rush" sung by StylipS.
The Ending "Futurustic Player" sung by Miyuki Hashimoto.
Summary
At first start of the semi-final match, we seen
Kuro Matsumi
battle of against
Kirame Hanada
,
Toki Onjouji
, and the champion
Teru Miyanaga
. Determine not to lose point to
Toki Onjouji
from her previous match, Kuro advance with caution as the game proceed. But this does not stop Toki from getting her signature move which is Riichi Ippatsu , thus ending the east round 1 on the semi-final match. As soon Toki, win the first round,
Teru Miyanaga
quickly use her ability "The mirror" which allow her to analyze her opponent deep inside.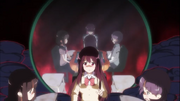 Afterwards the champion began making her winning streak by winning over Kuro and Toki respectively. During South round, the champion winning streak continues and increase from mangan to haneman, then toki remember her training with her team mates which she told them that she could see 1 turn ahead which surprise them. Back to tournament, Toki realize that
Kirame Hanada
purposely lower her point so that she could disrupt and prevent champion from getting Ippatsu. Meanwhile, as Kuro getting all the dora, they easily predict champion hands which make them 3 an ally which is unaware by Kuro.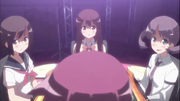 As the champion begin for her winning streak, Toki purposely give the winning to Hanada to stop the champion winning streak which the crowds give her an big applause knowing that its not easy to stop the champion streak eventhough the point she get is low, and thus Teru have to restart her winning streak again. Meanwhile Kuro still havent win anything which worries her might be a burden to the team again.
Trivia
Teru Miyanaga winning streak will get higher value each bonus round but will restart from the bottom if her winning streak is interrupt.
Ad blocker interference detected!
Wikia is a free-to-use site that makes money from advertising. We have a modified experience for viewers using ad blockers

Wikia is not accessible if you've made further modifications. Remove the custom ad blocker rule(s) and the page will load as expected.