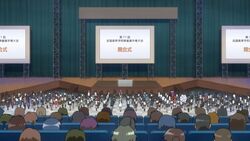 The 71st Inter High School Mahjong Championships (第71回全国高等学校麻雀選手権大会) is the 71st edition of the All Japan High School Mahjong Tournament championships.
Ruleset
The tournament's mahjong rules were changed from the last year. Fujita-pro stated that overall they increase the amount of luck involved, and speculated that they were introduced to locate players with supernatural abilities. The changes include:
4 red fives; two in the pin suit
No double yakuman of any kind
A pair of a double wind is 4 fu
On an open kan that leads to Rinshan Kaihou, the discarder of the kanned tile pays for the entire hand
Team tournament
Of the 16 teams that reach the second round of the championship, two schools are first-time participants, Kiyosumi High School and Usuzan High School.
Tournament draw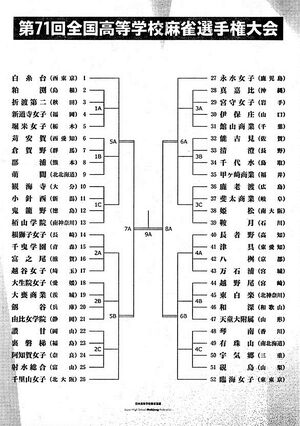 > Group 1
Shiraitodai High School (West Tokyo) (Seeded School)
- Group 1A
- Group 1B
- Group 1C
> Group 2
Senriyama Girls' High School (North Osaka Prefecture) (Seeded School)
- Group 2A
- Group 2B
- Group 2C
> Group 3
Eisui Girls' High School (Kagoshima Prefecture) (Seeded School)
- Group 3A
- Group 3B
- Group 3C
> Group 4
Rinkai Girls' High School (East Tokyo) (Seeded School)
- Group 4A
- Group 4B
- Group 4C
Matches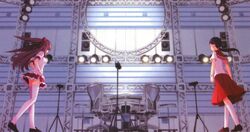 Group 1
Group 2
Group 3
Group 4
Semi-finals
Match for 5th
Final
Individual tournament
Participants
Statistics
Behind the scenes
Episode 25 of the Saki anime shows this event as the 89th Inter High. For consistency purposes, this wiki follows the Saki manga, which is the original work, in calling this event the 71st Inter High.
Ad blocker interference detected!
Wikia is a free-to-use site that makes money from advertising. We have a modified experience for viewers using ad blockers

Wikia is not accessible if you've made further modifications. Remove the custom ad blocker rule(s) and the page will load as expected.