The 61st Inter High School Mahjong Championships (第61回全国高等学校麻雀選手権大会) is the 61st edition of the All Japan High School Mahjong Tournament championships.
Team tournament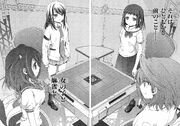 Harue Akado led Achiga Girls' Academy into the semi-finals of the Inter High. In the semifinals the vanguards Akado, Sukoya Kokaji of Tsuchiura Girls' High School, Hayari Mizuhara of Asakumi Girls' High School and Risa Noyori of Shindouji Girls' High School played against each other. Sukoya won the match while Akado lost a large amount of points, and Achiga was eliminated. Sukoya's team went on to win the tournament.
Ad blocker interference detected!
Wikia is a free-to-use site that makes money from advertising. We have a modified experience for viewers using ad blockers

Wikia is not accessible if you've made further modifications. Remove the custom ad blocker rule(s) and the page will load as expected.