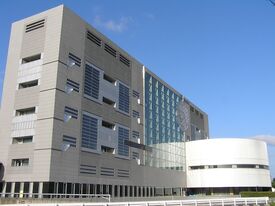 The  Matsue Children's Mahjong Tournament features various participants from the Shimane Prefecture. It's not divided by gender unlike for example the All Japan High School Mahjong Tournament.
History
MCMT has been in operation for over eleven years. Hayari Mizuhara won the previous tenth annual event.
Ruleset
Open Tanyao, Stokuze : Allowed
Double/Triple Ron : Not Allowed
No Ura dora, Red Dora, Kan dora, Kan ura-dora
Nagashi Mangan: Not Allowed
Ippatsu: Not Allowed
Participants
and others
Final Placement
Ad blocker interference detected!
Wikia is a free-to-use site that makes money from advertising. We have a modified experience for viewers using ad blockers

Wikia is not accessible if you've made further modifications. Remove the custom ad blocker rule(s) and the page will load as expected.